Why get into Muay Thai Kickboxing?
Utilise a beautiful symphony of kicks, punches, knees, and elbows with fluidity and grace.
Progressing into the real world means facing real problems. These can be everything from facing bullying head-on, to avoiding the everyday dangers of the streets. It could even involve confronting violence against women or any confrontation. Regardless of the reason, the art of self-defence has seen a boom in recent years. By empowering children and young adults with the knowledge of self-defence, Thai kickboxing has seen somewhat of a revival. At least it would have, had it ever gone away. Historically developed from karate mixed with boxing, kickboxing has grown over the years. Comparatively, the ancient martial art of Muay Thai has spread around the world – with fans of one sport often being fans of the other. Yet, whilst Muay Thai and kickboxing are two different sports, both share similar attributes.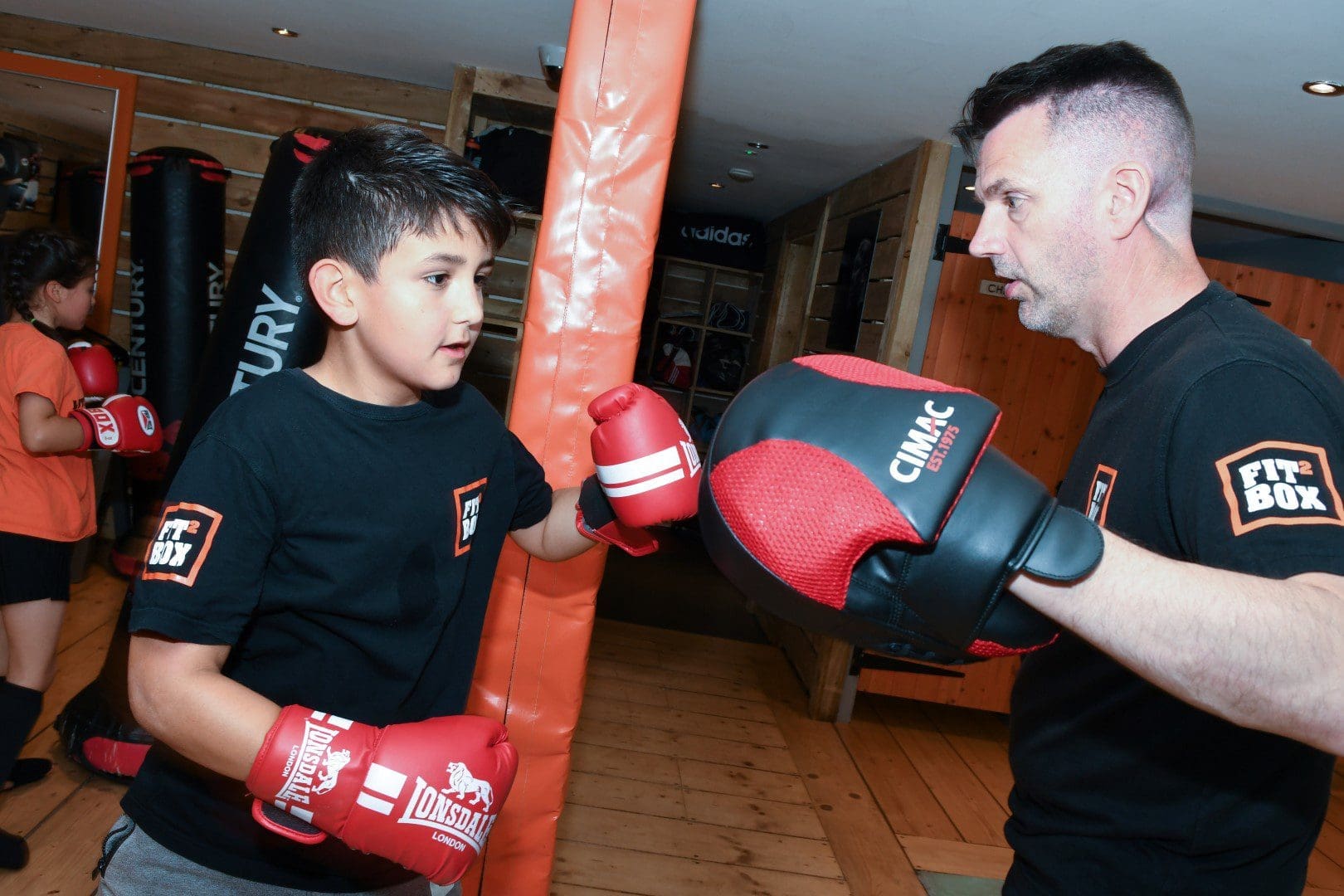 What is Muay Thai Kickboxing?
To use your mind and body to develop your mental and physical strength.
Typically speaking, both Muay Thai and kickboxing encompass different teachings. Given the sports improvisational nature, its implementation will vary depending on the individual. From a distance, kickboxing involves the use of stand-up striking kicks, in a hands-on full-contact environment. One could be forgiven for seeing similarities between it and Muay Thai. However, unlike traditional kickboxing, Muay Thai is known as the "art of eight limbs". This is because Muay Thai kickboxing utilises a beautiful symphony of kicks, punches, knees, and elbows with fluidity and grace. Conversely, kickboxers can "only" use four limbs to strike solely with kicks and punches. So, for those who want to empower themselves with the knowledge of self-defence, then Muay Thai kickboxing is certainly the way to go.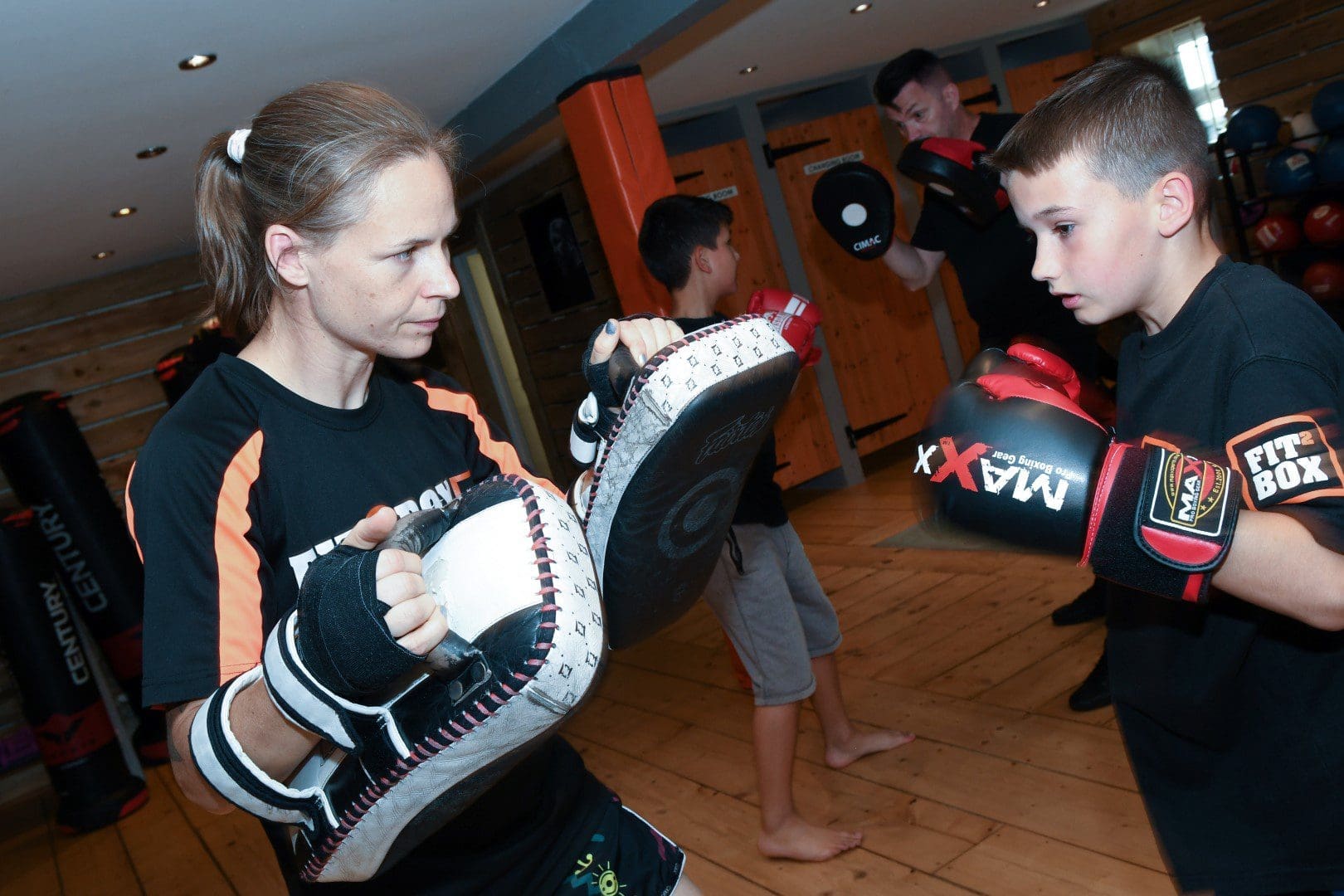 How can we teach Thai Kickboxing?
Through good discipline, structure, social interaction and combat sports training.
Whether you're looking for suitable self-defence classes or want a fresh approach to the fitness scene, Muay Thai kickboxing could be for you. Perhaps it's the discipline and tradition of a centuries-old sport or its popularisation in the MMA scene that's drawn you to us. Whatever the reason, you can be sure to feel the adrenaline and power as you hone your muscles and reflexes over time. That's what we can do for you at Fit2Box. Our team operate a family-friendly environment, and our Muay Thai kickboxing coaches are here to support you. Whether you're part of juniors (5-9), youths (10-15) or adults – or if you need specialist coaching – Fit2Box are here to help. Through us, you can embrace your life skills, technical proficiency and person-to-person interaction. Increase your confidence with regular gradings and quarterly assessments. Establish progress and set new targets and goals. When coupled with regular communication with parents and adults, this helps identify and rectify issues in young ones. However, no matter the age, we teach good discipline, structure, social interaction and combat sports training. We do this to help curb young adults from taking all their childhood insecurities into the adult world. If you do and you begin training later on in life, then this is something that Muay Thai kickboxing can help you hone. So what are you waiting for?
Make contact and connect with our Thai Kickboxing
Fit2Box is a Bournemouth-based Boxing and Martial Arts Academy with a retro twist!
Our ethos is embodied by our highly skilled team of fitness and combat specialists. Each one is dedicated to the development of their students and coaches. Whilst all our senior coaches have dabbled as successful competitors and/or coaches, they stand apart from the rest. How? Because our team have produced plenty of world and domestic champions over the years (since the 1980s, in fact). Yet that's not our main focus at Fit2Box. We take the positive attributes of combat and fitness training and utilise them within various age and learning groups. The benefits of which can help you be a better you.
LEARN to shatter limitations and reach for the stars.
LEARN to live a fitter and longer life.
LEARN to be confident and more assertive.
LEARN to challenge yourself and achieve the impossible.
LEARN to defend yourself.
LEARN that combat sports are more than the competition.
LEARN that we are all in this together and want you to succeed.