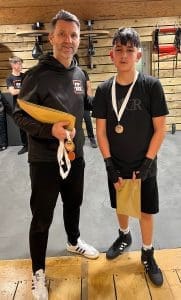 The Latest round of Phase Tests and Gradings are continuing for Juniors & Youths in Boxing and Kickboxing.
In the lead up to the first tests, many students attended the 'Master Classes', focusing on 'Test format' and the improvement / greater understanding of general technique. As with previous years,  the students committing to this generally achieved a higher percentage pass mark.
The post Grade / Test assessments have given everyone a direction for improving, and assisted class coaches with specifics for each individual.
After such an intense period for many, once the testing is completed, we will spend some time broadening the content in classes and having some additional fun with it. Jumps, spins, angles, twists, working with new equipment etc – until it's time to knuckle down again in the early summer!
Phase Testing & Grading caters for every level, with the first opportunity usually being offered after the first 3 months of training (if the candidate is ready and prepared). At the higher end we are now looking for Junior & Assistant Coaches / Instructors to include in a new 2 year program.
WE DON'T STOP @ FIT 2 BOX!