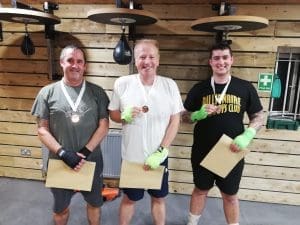 Phase Testing is a big part of what we do at Fit 2 Box.
The majority of members have no interest in competing, so a testing syllabus give them the opportunity to mark their progress. It's not quite the same as a Martial Arts grading system, but does help to establish where you are at, and what you need to do to get to the next level with your training.
It's not compulsory but it's a great training aid for those who wish to use it.
We Test 3-4 times per year depending on the level and content, and each student receives a feedback sheet specific to their performance. This is also fed back to their coaches so that adjustments can be made in sessions to maximise improvements.
We test Juniors, Youths and adults – Here are a few of the latest adult successes.