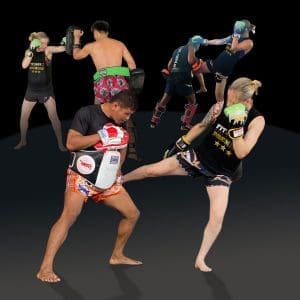 Fit 2 Box Gym will be one short for the next month as Thai Boxing Coach Michelle Keehan travels out once again to Thailand for the month,
In a quest to further her knowledge, Michelle will take up residence at the Yokkao Training Centre in Bangkok, where she is scheduled to train with the famous Saenchai, before moving on to Phuket to the popular Sumalee Camp (a favourite with Fit 2 Box)! Somewhere in amongst the training she will attempt a few days relaxation down south in Koh Samui, but also take in some training at the Super Pro Camp. Then it's the long trip North to Chiang Mai, where Sit-Thailand camp featuring the last of the golden greats Pinsinchai, will be her home for a few more days.
Anxious to further her universal knowledge, Michelle then switches to Australia and the Third Eye Gym, for some more authentic training.
You can be sure that on her return, there will be updates, modifications and additions to our technical program. We wish her well and look forward to her return – fully loaded!
Follow her progress updates via the News Links on the Fit 2 Box site and on our social media platforms.