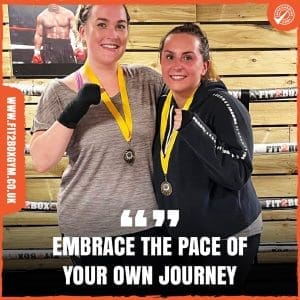 The Fit 2 Box Grading & Phase Test season has begun. During the last 6 weeks students of all styles and from all age groups, have been preparing for their test days, with extra training and Master Classes – designed specifically to break down the testing format.
Some students have already taken part (congrats to Beth & Hannah in the pic, by the way), with some great results being recorded.
This is something which we work towards three times each year. It's not compulsory, but it's a great way to measure your progress.  Traditional grading for Thai / Kickboxers, Phase Testing for Boxers. It's a busy time but it's all taken care of. As a member (any age), you will be monitored and mentored by your coaches, and when the time is right, we will send you a booking invite. Click to book – Pay – Turn up – Do your best!
The next testing period (when this one is completed) will commence towards the end of February 2023. Don't worry if you can't make the date, we have a 'mop up' period for anyone missing in action!
Please speak with your coach or contact the Fit 2 Box reception for more details.