Our first round of Phase Tests and Gradings for 2023 are underway. But what are they?
A grading is something we apply to Muay Thai / Thai Boxing. As a martial art we are able to follow the lead of other disciplines, offering the opportunity to aspire to a higher level throughout the year.
The 'Phase Test' in Boxing is slightly different. Whilst a 'grade' affords a rank, the Phase Test is strictly a measure of progression, which when successfully completed, allows the student to move to a higher level of training.
Amongst Juniors & Youths this is one of the most popular forms of progression. Our 'Masterclass' extra's afford students the opportunity to work on specific areas, complimenting their everyday training and preparing them for the 'Test day' format. The percentage pass rate average is higher for students taking part in this concept.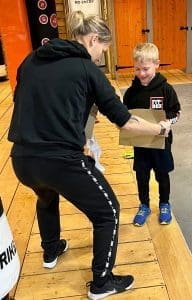 The important thing here is that all students have short term goals to work towards, which helps to maintain their focus rather than overwhelm them.
This entire concept is also available for adults.
Congratulations to all students taking part so far. This now continues for the next 4 weeks!