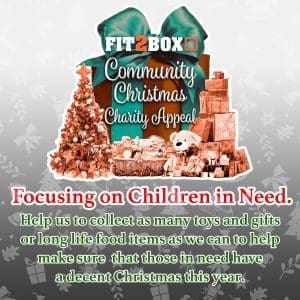 The Fit 2 Box Gym Christmas Community Charity Appeal is underway. This year our focus is on two areas.
Collecting toys and gifts for local children in need.
Collecting long life foods for local food banks.
It's a tough time for many and we will be supplying several local charities with goods to help with that. There are many local agencies working with the community, doing a fantastic job, mostly with volunteers and relying on help and assistance from the community itself. We are keen to support those charities where you are able to see exactly where the help goes and who benefits from that! WHAT CAN YOU DO? We will have a table set up in reception where donations of foodstuffs and toys can be left, Every little helps and the value is not important. We promise that every item will go to those who need it the most. So please – help us to help those who are struggling this Christmas! Thank you for your support!