I'm interested in boxing near me – why does Fit2Box keep coming up?
Take your first step into honing your body into a lean and chiselled physique.
So, you're looking to transform your life with one of the world's oldest and most celebrated sports? Well, by searching for boxing near me, you've taken your first step into honing your body into a lean and chiselled physique. In truth, boxing has the potential to turn lives around. Through it, you can cultivate and develop a focused mindset. Boxing provides an outlet for pent up aggression that might otherwise lash out with disastrous results. Yet, at Fit2Box, you not only benefit from brilliant boxing near me – oh no. You benefit from all of the above and much more.
No matter if you want to lose weight, get into shape or have a bit of fun – boxing is a great choice for everyone.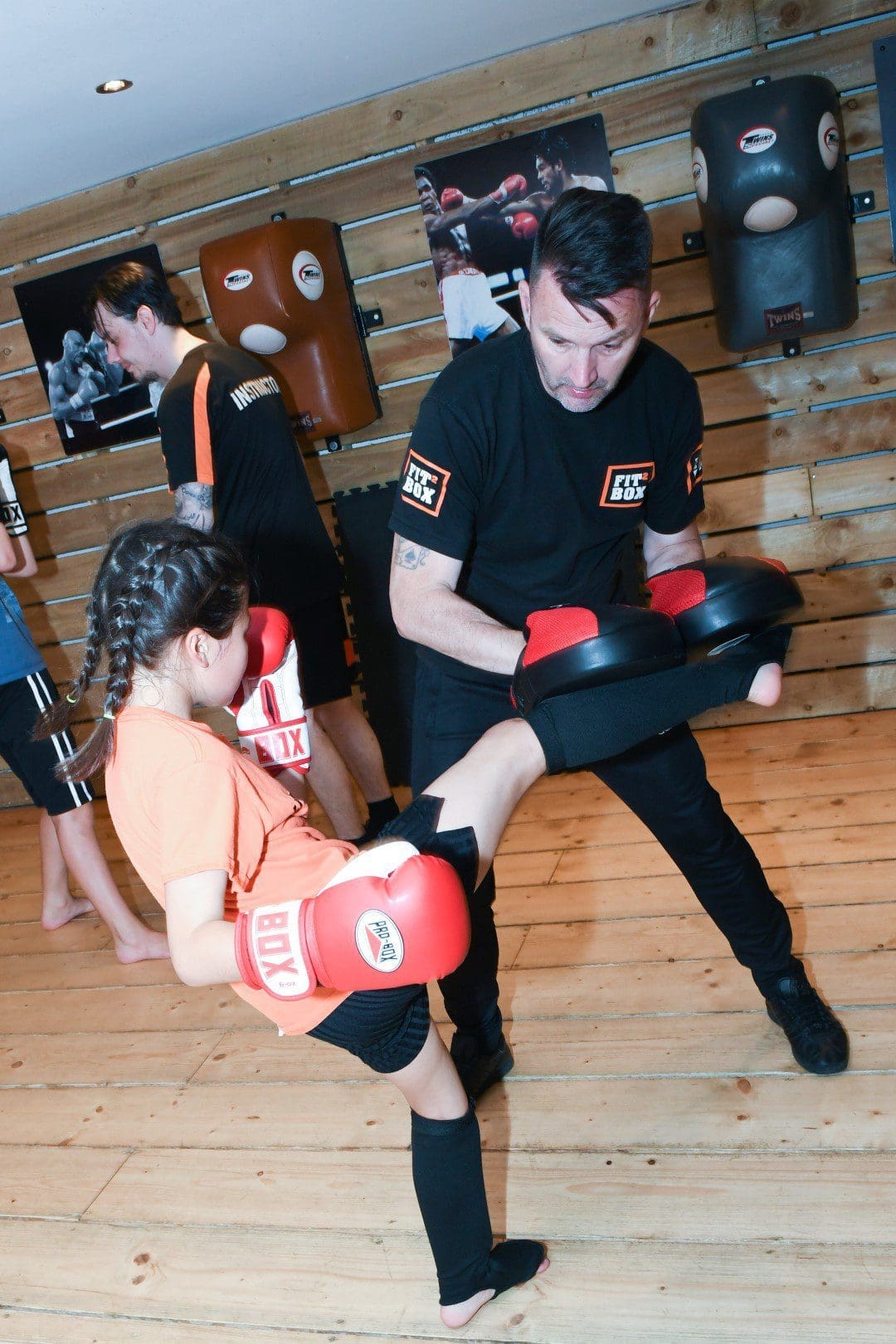 What is Muay Thai Kickboxing?
Challenge yourself and develop your speed, fitness, agility and power.
If you keep coming across Fit2Box, it could be for one of two reasons (or both). The first is obvious. It's because you're searching for boxing near me. Simple. We are a boxing club, after all. The second? Well, we don't want to brag, but it could be because we're one of the best boxing gyms in Bournemouth. In recent years, we've noticed that the fitness industry has latched onto boxing's popularity in an explosive number of ways. Whether it be Boxercise, BoxFit, or the like, gyms across the globe have all at once discovered the virtuous effects of pummelling something – and for good reason. By challenging yourself with a range of exercises, you can develop your speed, fitness, agility and power. Ultimately, all this helps refine your skills and stamina – making you the best version of yourself.
What makes Fit2Box the best boxing near me?
Our trainers strive to inspire and transform lives through the power of boxing.
If you're looking for the best boxing near me, Fit2Box comes highly praised. Why? Because our tutorage doesn't end when you exit the ring. For us, boxing is a way of life. Our trainers strive to inspire and transform lives through the power of boxing. By investing in and increasing the skills of our students, we help enhance their discipline and motivation. This helps facilitate a high-performing pathway for their engagement with everyday life. Whilst we cater to all levels – and offer a range of different boxing classes and non-contact sessions – internal development is a crucial element of what we do. We're keen to promote the positive aspects of fitness – discipline, self-drive and self-defence – regardless of your age or ability. All our classes are designed to ensure you're comfortable and content with what you're called upon to do. We want to challenge you so that you challenge yourself. After all, it's called a workout for a good reason. Through our tutorage, you will learn techniques that will make you a more confident and competent version of yourself.
Make contact and connect with boxing near me
Fit2Box is a Bournemouth-based Boxing and Martial Arts Academy with a retro twist!
Our ethos is embodied by our highly skilled team of fitness and combat specialists. Each one is dedicated to the development of their students and coaches. Whilst all our senior coaches have dabbled as successful competitors and/or coaches, they stand apart from the rest. How? Because our team have produced plenty of world and domestic champions over the years (since the 1980s, in fact). Yet that's not our main focus at Fit2Box. We take the positive attributes of combat and fitness training and utilise them within various age and learning groups. The benefits of which can help you be a better you.
To get the most out of our classes and expertise, there are a number of options available to tailor your training to suit you. Please use our contact form below to register your interest in boxing near me in Bournemouth.
LEARN to shatter limitations and reach for the stars.
LEARN to live a fitter and longer life.
LEARN to be confident and more assertive.
LEARN to challenge yourself and achieve the impossible.
LEARN to defend yourself.
LEARN that combat sports are more than the competition.
LEARN that we are all in this together and want you to succeed.