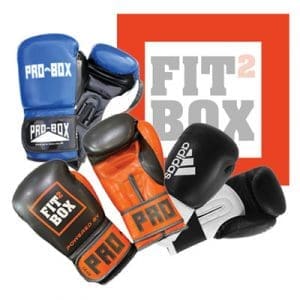 Which glove do I need for training?
It's an often asked question, and it's important that you seek the correct advice. Our expert staff members will ask the important questions and offer the correct advice! As combat sports retailers for over 30 years, our selection of Boxing gloves represents the best quality and item for the price paid. No fancy stuff, no gimmicks – just straight up value for money!
Pro-Box Club Spar – £28.99
Pro-Box 'Fit 2 Box' bespoke – £35.99
Adidas Hybrid 100 – £43.99
For this article, we have listed our favourite entry level options. We'll keep it simple and tell you why. We have considered comfort, fit, safety, support & durability (according to use) before recommending. Here are a list of questions which we will always ask you before purchase (unless we already know the answer of course)!
How often will you train? – This helps to establish a quality level which will represent your usage.
Do you intend to spar at some point ? – This will determine the oz (size) of glove required, and may prevent you needing a second pair.
Do you have a preferred budget? – This helps us to find the best item within your budget.
Additional considerations for children / youths:
Their potential growth may affect the size required – We will advise.
Here is our advice when it comes to 'Don'ts'!
Don't pick for colour or looks, unless you know the item to be suitable.
Don't think that a glove is a glove. It's not, and for children with developing bones, this is even more important during the early stages.
Don't settle for a purchase from a well known high street brand because it's (literally) a few pounds cheaper. Staff are trained to take your payment only, they can offer no advice regarding the item. These gloves are generally made for buying and selling, with no emphasis on fit or usage – Sounds harsh, but its a high street reality. Items made to fit a price point.
Don't be fooled into thinking that a (once) famous brand = quality! Over the last 20 years, many quality brand names have been purchased, with ranges developed to fit a price point on the back of that. These goods have flooded the market place. However, don't let this detract from the many fantastic brands, still offering great options – we can advise!
We appreciate that in some cases, money is tight. Or as a parent you may need to buy more than one pair – but it's important! There will be impact on the hands and they need to be protected correctly. The difference in price is not what you think. For instance, you will see a high street glove priced at £20-£25. For £28 -£30, a specialist will offer a much better option for entry level students!
Our current recommendations for new students are listed at the start of this article. Buy ONLINE,  call us (01202) 294218, message on the usual platforms, or pop in to the Pro Shop at the gym, to discuss! Oh, and handwraps are a must for continued protection. We have the right quality, the right length at the right price, starting at about £6.00 pair. Ask us!